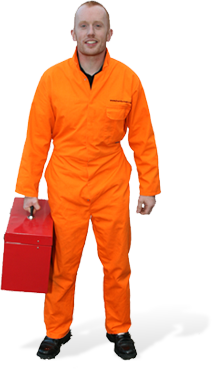 Give Us Feedback
We care what you think. We are always striving to improve our service. If you've recently had any kind of work done by a Handychap then please feel free to let us know what you thought of our service.
Leave feedback »
Testimonials

Below are just a few comments from the literally hundreds of satisfied customers we have.

Excellent service, a small job but the work was carried out pleasantly and professionally, would certainly recommend.
Thank you handychaps. Carol Wright - Norton.

thanx for replacing my shower and for all the outdoor work you attended to. The work was done efficiently and you even tidy up too.
Thanx Again Mrs Steele - Crewe.

OUR SAFE DOOR LOCK WAS SEVERELY DAMAGED SO WE WERE UNABLE TO UNLOCK OR OPEN THE DOOR....HANDYCHAPS CAME OUT IN DOUBLE QUICK TIME, HAD THE DOOR OPENED AND A NEW LOCK FITTED IN NO TIME - GREAT JOB.
GARY WOODS - LIQUID NIGHTCLUB - MANAGER

SEVERAL OF MY COMPANY OUTLETS WERE HAVING ISSUES FROM BROKEN CELLAR DOORS TO WATER LEAKS, HANDYCHAPS WERE VERY PROFESSIONAL MAKING A LIST OF ALL JOBS, PRIORITISING THE TASKS AND GETTING IT ALL COMPLETED WITHIN A VERY SHORT SPACE OF TIME.......NOW I USE HANDYCHAPS WHENEVER I NEED SOMETHING DOING.
MARK WATERWORTH - MDW LEISURE LTD - DIRECTOR

AFTER VANDALS DAMAGED THE PIPING IN THE MENS TOILETS WE THOUGHT WE WOULD BE WAITING AGES FOR A TRADESMAN TO ARRIVE AND EXPECTED IT WAS GOING TO COST A BOMB TO GET FIXED......WE RANG HANDYCHAPS AND THE RESPONSE WAS FANTASTIC, THEY ARRIVED SWIFTLY WITH TOOLBOX IN HAND....IN LESS THAN 3 HRS THE JOB WAS COMPLETED, WITH NO MESS LEFT AND EXCEPTIONAL VALUE WE WERE VERY HAPPY.
STUART BEALE - LAST ORDERS BAR STOKE - MANAGER

USE HANDYCHAPS ON A REGULAR BASIS, THE SERVICE THEY PROVIDE IS EXCEPTIONAL.....THEY ALSO PROVIDE AN EXTREMELY EFFICIENT AND HIGH QUALITY AFTER SALES SERVICE IF THINGS GO WRONG.....HANDYCHAPS ARE THE FIRST PEOPLE TO CALL NO MATTER WHAT THE PROBLEM.
RACHAEL WINROW - FIRST PROFESSIONAL LEISURE LTD - DIRECTOR

THE OFFICE AT WORK NEEDED UPDATING AND SOME GENERAL REPAIRS ETC DOING, I DECIDED TO BOOK HANDYCHAPS FOR THE JOB, THE WHOLE TEAM COULDNT BELIEVE HOW GOOD IT LOOKED WHEN THEY FINISHED......IM SOOO COMFORTABLE AT MY NEW DESK NOW, THANK YOU HANDYCHAPS.
DOMINIC GALLESPIE - LUMINAR LEISURE - GM

Mike and Adam did an outstanding job on our bathroom. They removed the old bathroom and installed a new one, including all tiling and building a integrated cupbroad. Nothing was too much trouble and their attention to detail was fantastic. Handychaps cleaned up after themselves everyday so that we could use the bathroom throughout the job -important as we have two young children. They are a pleasure to have in the house - in contrast to many workmen, they were good humoured, patient with the kids and they worked around us. The final results were fantastic. Thanks to both of you - we have already recommended you to friends and family without hesitation.
MR DAVID AND MRS HEIDI BURNHAND